Brown Bear Taxidermy Studio
289 Pleasant Valley Road (Rte 443)

Pine Grove, PA 17963
570-345-3030


CALL FIRST

25 Minutes From Cabela's Hamburg, PA
Just Off 78 Or 81 In Pine Grove, PA
Shipping & Receiving Nationally
Taxidermy Care, Tips, Shipping
Antelope Taxidermy - Pronghorn Antelope Mounts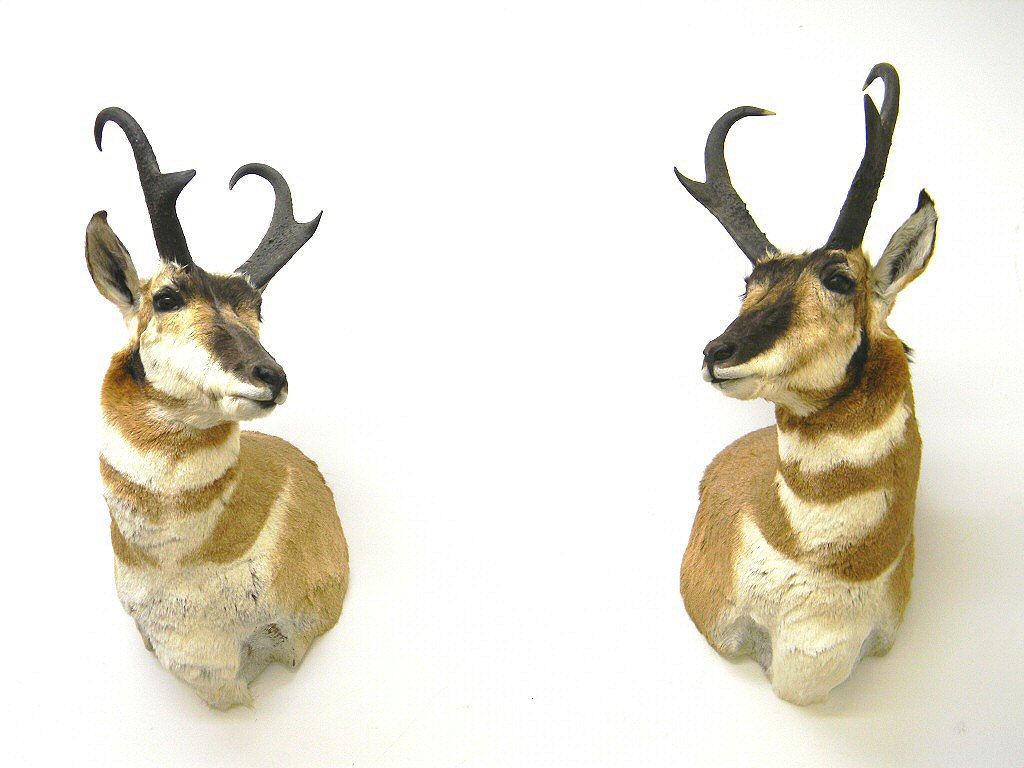 Brown Bear Taxidermy creates some of the finest life like antelope mounts found anywhere.

Antelope Taxidermy with a 1 year or less turn around time.

We maintain a 100% customer satisfaction rate.

Antelope Taxidermists - Professionally and expertly trained by some of the top names in the industry in Antelope taxidermy and we are fully licensed.
Pronghorn Antelope Taxidermy Mounts

We are fully trained in all of the latest Antelope taxidermy techniques and our results speak for themselves.

If you want that Antelope of a lifetime to look like the moment you harvested it and stay that way for years to come, go with a true quality taxidermist.

We use advanced taxidermy techniques that eliminate loss of hair and other problems that can happen with lesser quality taxidermy mounts.
Pronghorn Antelope Shoulder Mounts
Pronghorn antelope are a very unique animal. They can run very fast with a top speed of up to 65 miles per hour.
Pronghorn antelope do not shed their entire antler such as deer. This type of antelope sheds only the outer layer of it's horn and re-grows it every year.
Pronghorn antelope have incredible eyesight that includes seeing a full 320 degrees around and can see for miles making them very difficult to get near.
Often hunted from blinds at waterholes they can be an exceptional challenge.
Let Brown Bear Taxidermy forever preserve your experience with this speedster of the plains.
Contact Us Today.
Brown Bear Taxidermy Studio
289 Pleasant Valley Road
Pine Grove, Pa. 17963
570-345-3030
Always Call First To Be Sure We Will Be In.

Hours: Mon thru Friday 9am - 5pm
Sat - Appointment Only Sun - Closed
Other Hours By Appointment Only - Call

Copyright Protected & Strictly Enforced

Copyright 2001-2023 Brown Bear Taxidermy Inc.
Website Design PA By MCEnt
All Images and content protected by international copyright law.
NO image or part of this website may be reproduced or used in ANY many without prior written permission.
PDC Spa and Pool World, Spas, Hot Tubs, Whirlpool Tubs, Saunas, Steam Saunas, Steam Rooms, Infrared Saunas, Pools, Spa Parts, Pool Parts, Pool Supplies, Sauna Supplies, Spa Supplies, Finnleo Saunas, Supply, Spa Repair, Pool Chemicals, Sauna Chemicals, Serving, Brodheadsville, Tannersville, Stroudsburg, Poconos, Hazleton, Lehigh Valley, Allentown, Bethlehem, Easton, Pennsylvania, PA, Fogelsville, Nazareth, Wilkes Barre, Laurys Station, Center Valley, Reading, Pocono Manor, Pocono Summit, Pocono Region, Saylorsburg, Shawnee, Monroe County, Carbon County, Luzerne County, Lehigh County,18711, 18034, 18051, 18000, 110248, 570,610, 215 area codes.
Taxidermy, Taxidermist, , Form Taxidermy, Quality Taxidermy, Advanced Taxidermy, Custom Taxidermy, Licensed Taxidermist
PA Taxidermy PA Taxidermist
Pennsylvania Taxidermist
Pennsylvania Taxidermy Studio
Brown Bear Taxidermy Studio