Brown Bear Taxidermy Studio
289 Pleasant Valley Road (Rte 443)

Pine Grove, PA 17963
570-345-3030


CALL FIRST

25 Minutes From Cabela's Hamburg, PA
Just Off 78 Or 81 In Pine Grove, PA
Shipping & Receiving Nationally
Taxidermy Care, Tips, Shipping
Deer Whitetail Shoulder Mount Wall
Deer Shoulder Wall Mounts Whitetail deer shoulder mounts for walls are one of our specialties.
Deer Shoulder Wall Mount Ideas! Look through our amazing deer shoulder wall mount options then contact us to discuss your ideas.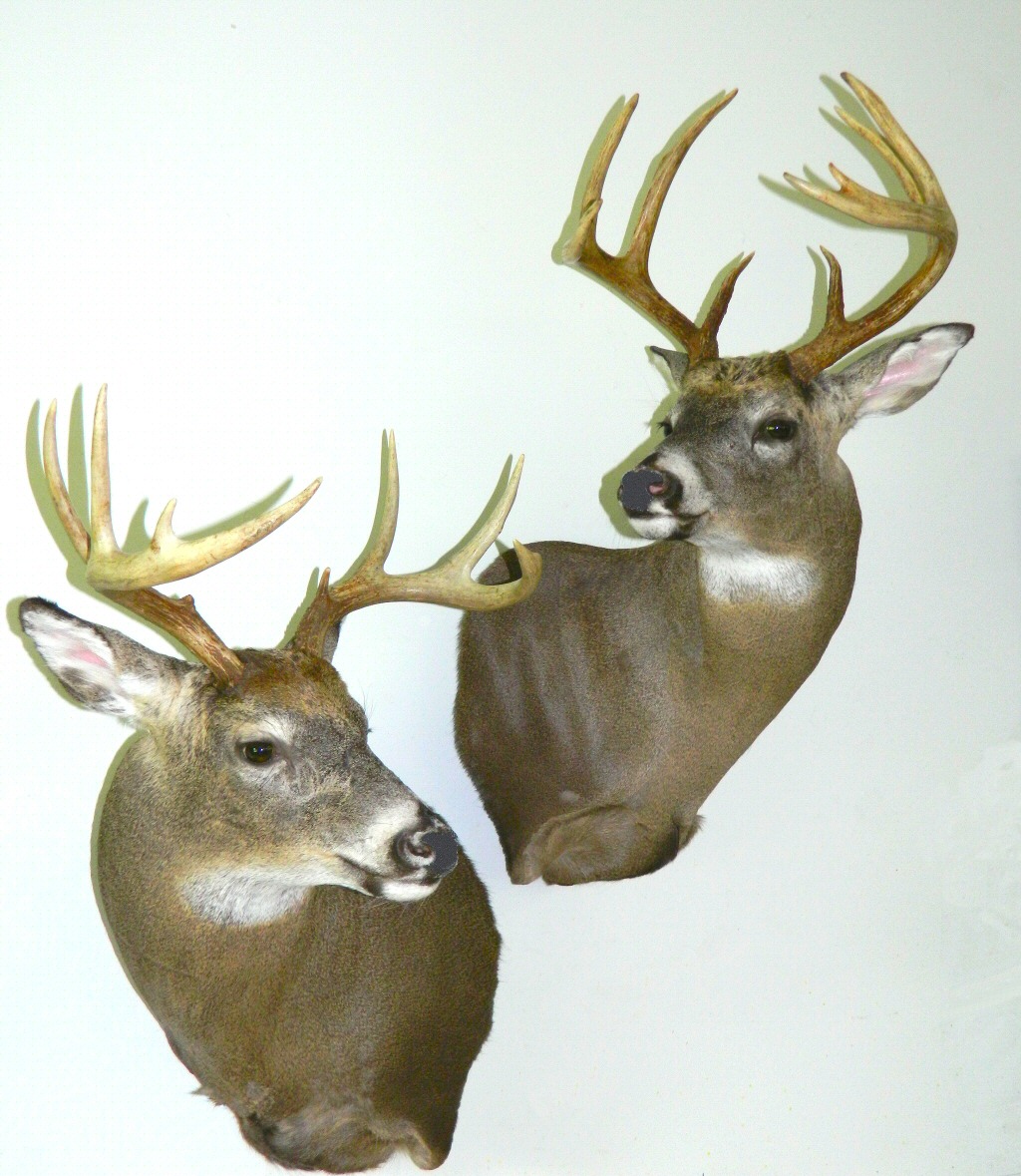 This may be your once in a life-time deer! Do you really want to risk it to save a few dollars?
Our deer taxidermy cost is more than fair, especially for the level of work we deliver.
Hunters that travel everywhere send us their deer to mount because of our reputation for Quality!
Brown Bear Taxidermy Studio has been creating the most stunning life like deer shoulder wall mounts for decades.
We know how to capture that magic moment for you to enjoy and share for a lifetime to come.
Deer head shoulder mounts for your wall can be mounted into any number of natural looking habitats using the best materials. Deer can mounted any number of ways. Wall shoulder mounts are one of the most popular.
If you do not have a Deer but would like one mounted we can create whatever Deer taxidermy mount you like.
We have Deer taxidermy for sale usually on a custom made to order basis.
This ensures you get your Deer mounted as you want it.
Call us to discuss your Deer taxidermy mount needs.
Tell us what Deer mounts ideas you may have. For Deer taxidermy near me choose Brown Bear Taxidermy Studio. We create some of the finest life-like Deer mounts anywhere. We typically suggest full body Deer mounts using natural habitats but let us know what you have in mind.
Brown Bear Taxidermy Studio
289 Pleasant Valley Road
Pine Grove, Pa. 17963
570-345-3030
Always Call First To Be Sure We Will Be In.

Hours: Mon thru Friday 9am - 5pm
Sat - Appointment Only Sun - Closed
Other Hours By Appointment Only - Call

Copyright Protected & Strictly Enforced

Copyright 2001-2023 Brown Bear Taxidermy Inc.
deer wall mount, deer wall mount ideas, deer wall mount for sale, deer wall mount options, deer taxidermy near me, deer taxidermy cost, deer taxidermy price, taxidermy deer head near me, deer taxidermy forms, taxidermy for sale, mule deer mounts for sale, selling mounted deer heads, replica deer mounts for sale, whitetail deer mounts, deer mount pedestal, deer mount positions, deer mount ideas, whitetail deer mounts, pictures of deer mounts, semi sneak deer mount, replica deer mounts for sale, Deer Taxidermy, Deer Taxidermist In Pennsylvania, Red Deer Taxidermy Mounts, Grey Deer Taxidermy, Taxidermy Deer Price, Taxidermy Deer Head, Deer Taxidermy For Sale, Deer Taxidermy Near Me, Cool Deer Mount Ideas, Life Like Deer Mounts, Deer Mounts Near Me In Pennsylvania